About Us
Zone Map click here
The map describing the attendance zone for this school is intended to provide a general overview of the territory this school serves. Parents must contact the school in question in order to confirm admissibility to the requested school.
Philosophy / Mission
Mountainview Elementary School is committed to developing the academic, social, and emotional potential of all our students. This is achieved by providing a caring and welcoming environment for all our families. Community partners and parents work together with staff, to support and challenge all children to achieve their full potential. Our motto "Mountainview Cares" represents our core belief that children will learn best and flourish in a caring environment, and that teaching children to care, will benefit individuals and society. Our motto embodies all aspects of our school experience.
Mountainview Elementary CARES about:
Community, Diversity and Social Responsibility
Autonomy and Self-Awareness
Respect for Self, Others and Environment
Excellence in Academics and Life Skills
Safety and Security
General Information
Mountainview Elementary School was established in 1960 as St- Eustache sur-le-Lac Elementary. It was renamed Mountainview Elementary in 1973. While located in Deux-Montagnes, Mountainview also serves the population of St- Eustache, Oka, Saint-Joseph-du-Lac, Pointe-Calumet, Saint-Augustin, Saint-Benoit and Sainte-Marthe-sur-le-Lac, as well as a small corner of Mirabel.
Many of our 275 students have parents who graduated from Mountainview - we are truly a community school.
In 2007 Mountainview was named by Today's Parent as one of Canada's top 30 schools.
In 2013 We won the Jasmine Roy foundation award and in 2014 we won the GRIS Simple Plan award for our pioneering work against bullying through our Week Against Homophobia Program.
Parent Participation
The Mountainview Elementary School Governing Board meets 5 times per year and the Mountianview Home and School Association meets one time per month. We have an extremely active volunteer program, with about 2 000 hours of time donated each year by parents, grandparents and community members. Our Home and School fundraising activities contribute thousands of dollars every year to the extracurricular, co-curricular and educational activities of the school.
Programs
Whole School Integration of Technology
Over the last 5 years Mountainview has been steadily increasing the classroom technology availability to our students.
All elementary classrooms have a smartboard: As of Fall 2013 all of our Kindergarten, Cycle 1, 2 and 3 classes have a smart board.
Apple TVs: Kindergarten classrooms and our Music room, and Daycare have HD wide screen TVs with Apple TV.
KinderTech: In addition to the HD screens, with a dedicated laptop, Kindergarten also have networked computers, dedicated ipads and a smart table for regular student use.
Laptops and Chromebooks: All students in cycle 3 have either a chromebook or a laptop.
iPads: Mountainview currently has 32 ipads (not including dedicated ipads for some students). 12 of the ipads are dedicated to our Kindergarten students, the other 20 are shared by the Cycle 1, 2, and 3 classes.
We are Leaders in Education and Pedagogy.
Mountainview continues to participate in partnerships with McGill and Concordia for both the training of teachers and for pilot research projects.
Services
Day Care
Mountainview Daycare is a MEES-regulated service which cultivates and nurtures positive relationships between members of the Daycare staff, students and parents. The Daycare offers activities such as sports, arts & crafts, games and special activities to all our daycare students while providing time for reading and outdoor play. Pedagogical days include in-school and fieldtrip activities.
Community involvement
Mountainview students have many opportunities throughout the year to experience the rewards of helping others. During the last year our students were involved in the following projects:
Terry Fox Run: Mountainview students participate in the annual Terry Fox Run.
Remembrance Day Celebration: Students brought in donations for poppies distributed by two active Canadian peacekeepers.
Christmas Food Drive : Every year boxes of food are donated from Mountainview families to Agapé.
Kindergarten 100th Day of School Celebration: Kindergarten students brought in and donated 100 cans of food to Agapé.
National Denim Day : Students and staff contribute funds to be sent to the CURE Foundation.
Week To End Homophobia: Students and staff participated in a school wide week of activities designed to end homophobia in our schools and in our society.
Mountainview House System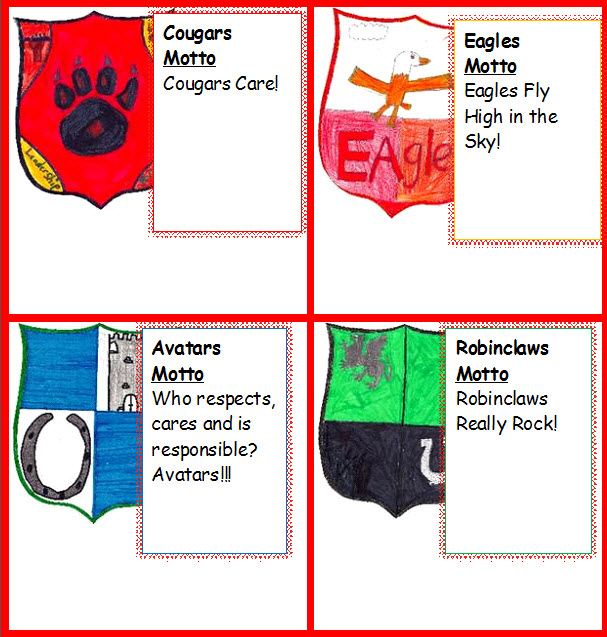 The Mountainview House System began in 2010-2011. Similar to that seen in Harry Potter's Hogwarts, Mountainview students have been divided into four Houses. Each House has students from Kindergarten to Grade 6.
This new system is part of our continued positive behavior program, and will encourage students to form positive relationships with fellow students in different levels. Throughout the year, students earn House Points in class, during assemblies, at daycare, on the bus, and on the playground. Points are given for positive behaviors such as cooperation, kindness, good sportsmanship, tolerance, respect, effort etc.
The houses were named by a democratic vote of members. The crests and mottos were also selected by house member vote.
Events and activities
House Leaders: Cycle 3 students act as Masters of Ceremonies at school assemblies, plan and implement fund raising activities and represent the student body.
Variety Show: an afternoon and evening production showcasing the many talents of our students.
Family Movie Nights invite families to come and watch an evening movie complete with popcorn and drinks in a family-friendly environment at the school.
Halloween, Christmas and Spring Carnival days invite students to participate in various student led games and activities.
I Love to Read Weeks celebrates our love of reading
Winter Carnival Week: a week of activities both inside and outside with a school trip
Intramural sports program at lunch.
Various clubs (chess, knitting, cooking, spelling bee) during lunch
Grade 6 and Kindergarten Graduation Ceremonies
School Wide Events
We believe that coming together as a school is essential to maintain our caring family atmosphere and values. During the last year we came together as a school for the following events:
Remembrance Day: Celebration of peace and remembrance
Christmas Celebration
Professional Theatre Company play presentation by Geordie Productions
Opening Day Assembly
Anti-Homophobia Week
Jump Rope for Heart awards Assembly
I Love to Read Weeks culminating in a celebration and Assembly
Halloween Carnival
Terry Fox Run and Assembly
Winter Carnival Week
Science Fair day and evening
Variety Show day and evening
Earth Day Celebration Assembly
Outdoor Field Day
Ice Cream Truck
Extracurricular Activities
Lunchtime activities are planned and supervised free of charge by the teachers. After school activities are provided by outside sources; parents pay various fees depending on the activity.
Activities included:
Lunch Activities:
Intermural sports activities
Jump rope club
Board games club
Gymnastics club
Volleyball
Soccer
Educ-action activities